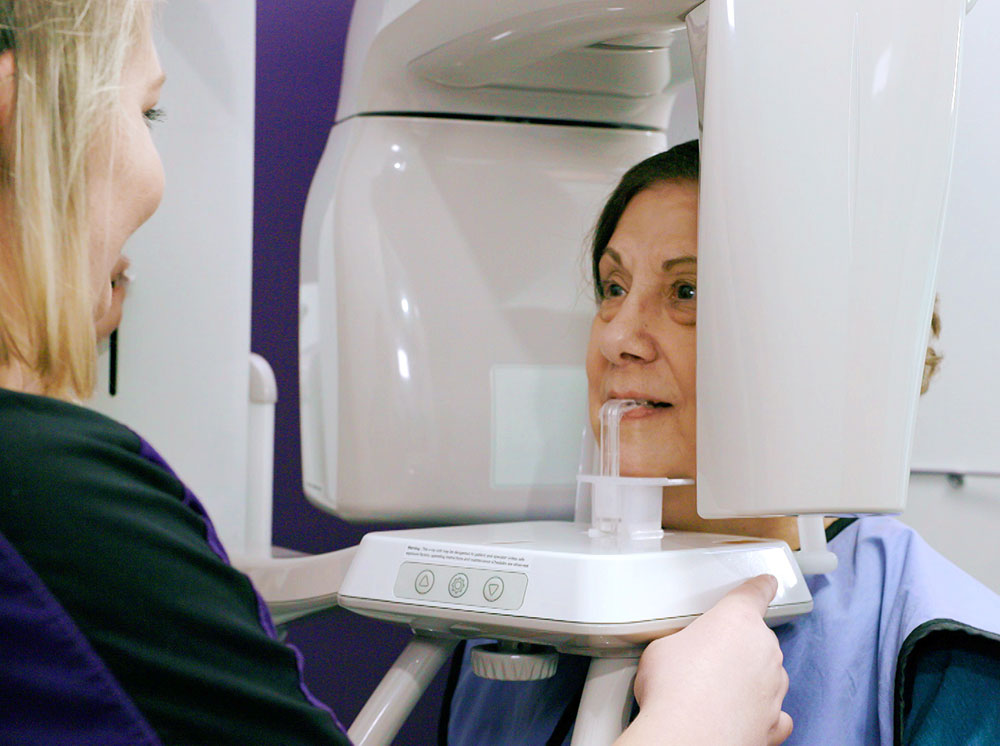 The Care
Prevention & Diagnosis
New Patient Appointment & Customized Treatment Planning
New patients all start at our office by receiving a comprehensive exam from Dr. Traynor including digital photos and any necessary digital X-rays. During this visit Dr Traynor likes to take time to get to know all the patients and to answer any questions or concerns they might have. Dr. Traynor will then prepare a customized treatment plan for your specific dental health and esthetic needs. He and his team will take time to inform you about all the treatment options available to you. This will allow you to make an educated and informed decision to proceed with confidence knowing that the customized treatment plan will result in reaching your goals of dental health and esthetics.
1/7
Digital X-ray
At Beacon Dental we have been utilizing digital X-rays for 13 years. Digital X-Rays require significantly less radiation than old style film and they provide a clearer, sharper image better for diagnosing. Digital X rays are also better for the environment as no chemicals are needed for processing unlike the old film X-rays. The number and frequency that X-rays are taken is customized for each patient. Our typical protocol is to take a Full mouth series on each new patient and 4 bitewing x-rays are recommended once per year to check for decay between teeth. For patients that are at a high risk for cavities we recommend an increased frequency of bitewings and for patients with low cavity risk we will reduce this frequency. It is our office policy to take Bitewings at least every 24 months and a full mouth series or Panoramic Radiograph is taken every 3-5 years.
2/7
Digital Photos
We take a series of digital photos of your smile and intra oral photos of individual teeth at your new patient appointment. Dr Traynor knows that photographs are the best way to communicate and show you exactly what is happening in your mouth. Photographs are also a great way to record and compare to check for changes over time. Finally, they can be utilized to communicate with those pesky insurance companies.
3/7
Flouride Treatment
A fluoride treatment is recommended to help teeth become stronger and more resistant to decay. This is especially recommended for those without fluoride in their drinking water. Our hygienists apply a fluoride varnish to your teeth at the end of your cleaning appointment. This varnish is a particularly effective fluoride treatment as the keeps the fluoride on the tooth surface for several hours.
4/7
Sealants
Sealants are used as a preventive measure to protect teeth from decay. The grooves and depressions that form the chewing surfaces on the back teeth can be extremely difficult to clean, especially for children. Tooth sealants protect these susceptible areas by sealing the grooves and depressions, preventing bacteria and food particles from residing in these areas. Sealant material is a resin applied to the back teeth and areas prone to cavities. It lasts for several years but needs to be checked during regular appointments.
5/7
Occlusal Bitesplints (Night Guards)
Occlusal bite splints often called night guards are used to prevent clenching and grinding, especially at night, though they are occasionally worn at certain times during the day. Clenching and grinding, or bruxism, can cause wearing of the teeth and soreness in the jaw joint or muscles and even damage to the gums. This can be related to stress, acid reflux/GERD or sleep apnea. Impressions of your teeth and bite are taken, and the laboratory custom fabricates an occlusal bite splint. This is fitted to the upper or lower teeth to protect the teeth and gums and help muscle relaxation. If you are concerned about sleep apnea a sleep study referral from your primary care physician is recommended as a different splint called a mandibular advancement device or even C-PAP machine may be required.
6/7
Athletic Mouthguards
Mouthguards are used to protect your teeth and gums during sports activity. An impression of your mouth is taken, and the mouthguard is custom fabricated from a rubber material by the laboratory.
7/7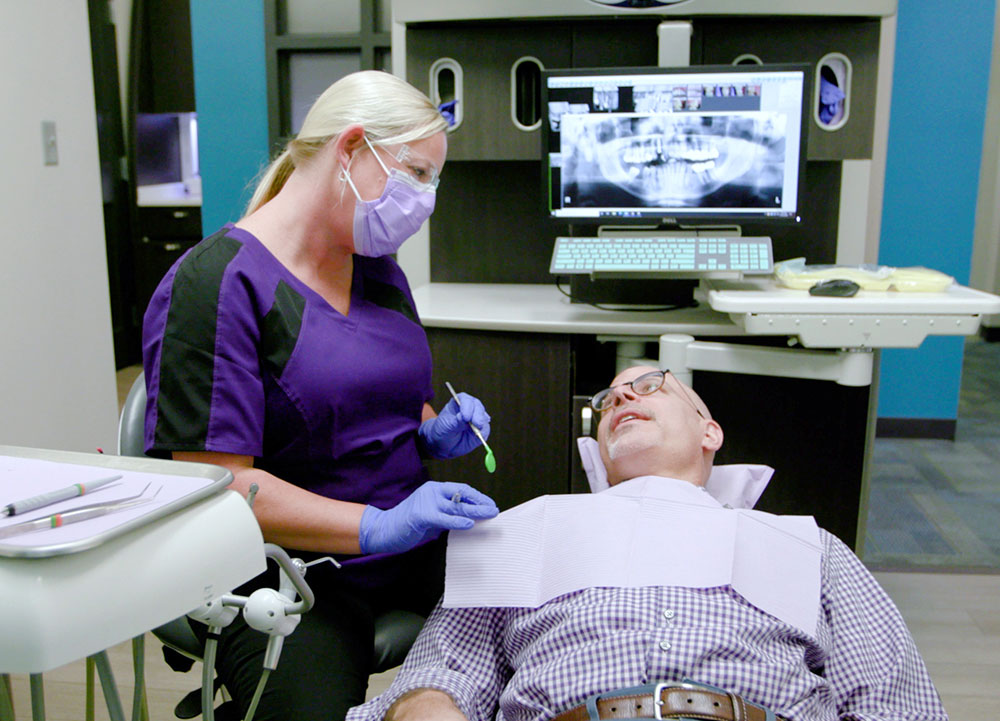 Prophylactic or Standard Cleaning
A prophylactic or standard cleaning is recommended every six months. It is intended to maintain oral health and prevent disease. This type of cleaning is not for individuals who may already have gum disease. During a prophylactic or standard cleaning all plaque, bacteria, and calculus (tartar) are removed, and the teeth are polished. Your hygienist will complete a periodontal exam, which is a series of measurements to check for any signs of gum disease. Dr. Traynor will also perform an examination to check for tooth decay and gum disease, as well as perform an oral cancer screening. Any necessary X-rays will be taken; bitewing X-rays are usually recommended once per year to check for decay between the teeth. A fluoride treatment is also recommended to help teeth become stronger and more resistant to decay. This is especially recommended for those without fluoride in their drinking water.
1/2
Advanced Deep Cleaning or Scaling and Root Planning:
This called scaling and root planning and is only performed to treat periodontitis or gum disease. Gum disease is a chronic inflammation of the gums. Plaque and bacteria accumulate and become trapped in the gum pocket around the tooth causing chronic inflammation which leads to loss of bone and support around the tooth. Gum disease is the leading cause of tooth loss in adults. The chronic inflammation causing Gum disease may increase your risk of other health complications, including stroke, diabetic complications, and heart disease. Gum disease has even been linked with problems in pregnancy and dementia. The way we treat this is to anesthetize the area and all plaque, bacteria, and calculus (tartar) are removed from above and below the gum.
2/2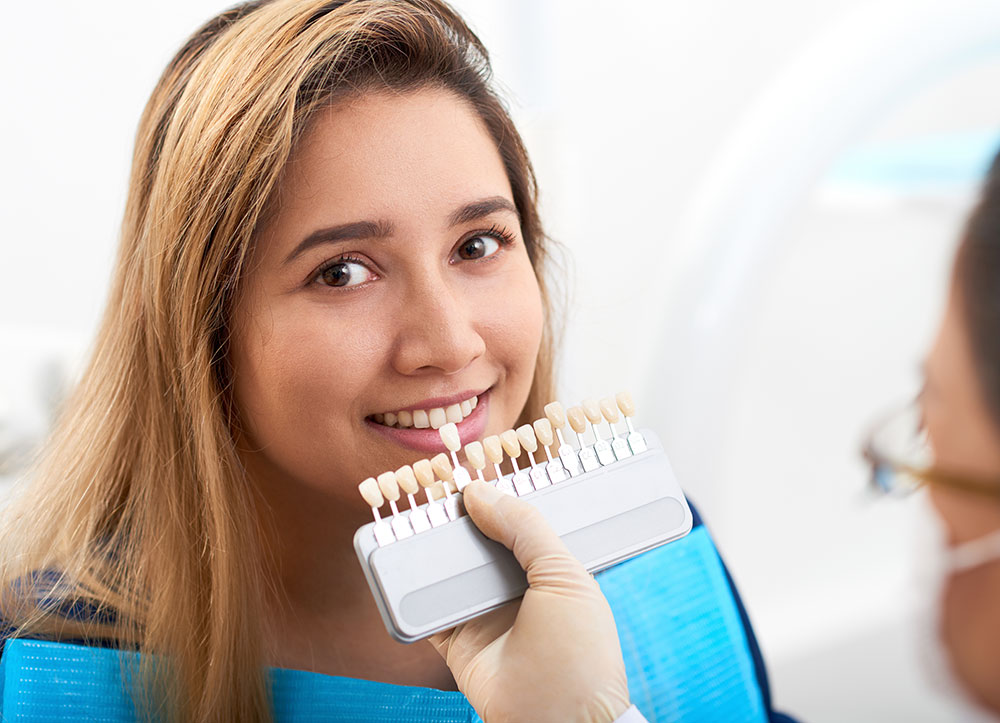 Dentist-prescribed At-Home Custom Teeth Whitening
Whitening is used to give you a brighter, whiter smile. It is the easiest and most conservative way to make a cosmetic change to your smile. Making your smile whiter and brighter can give you a younger look and make you feel more confident. Professional at-home teeth whitening kits are those obtained from your dentist which contain a high concentration of either hydrogen peroxide or carbamide peroxide. We take impressions and fabricate Custom-fitted dental trays. These are included to keep the whitening solution on the surface of the tooth and limit the exposure of the solution to the sensitive gum (gingival) area. Professional in-home kits are relatively easy to use and offer exceptional results after just one to two weeks of use.
1/2
Veneers
Veneers are used to change the aesthetics of your smile. This cosmetic procedure is utilized to fix spaces between the teeth; permanently stained or discolored teeth; and broken, chipped, or crooked teeth. This procedure takes two appointments. The first appointment is to shape and measure your teeth and take an impression. The laboratory custom designs and fabricates the porcelain veneers. At the second appointment, the veneers are bonded into place instantly changing the look of your smile.
2/2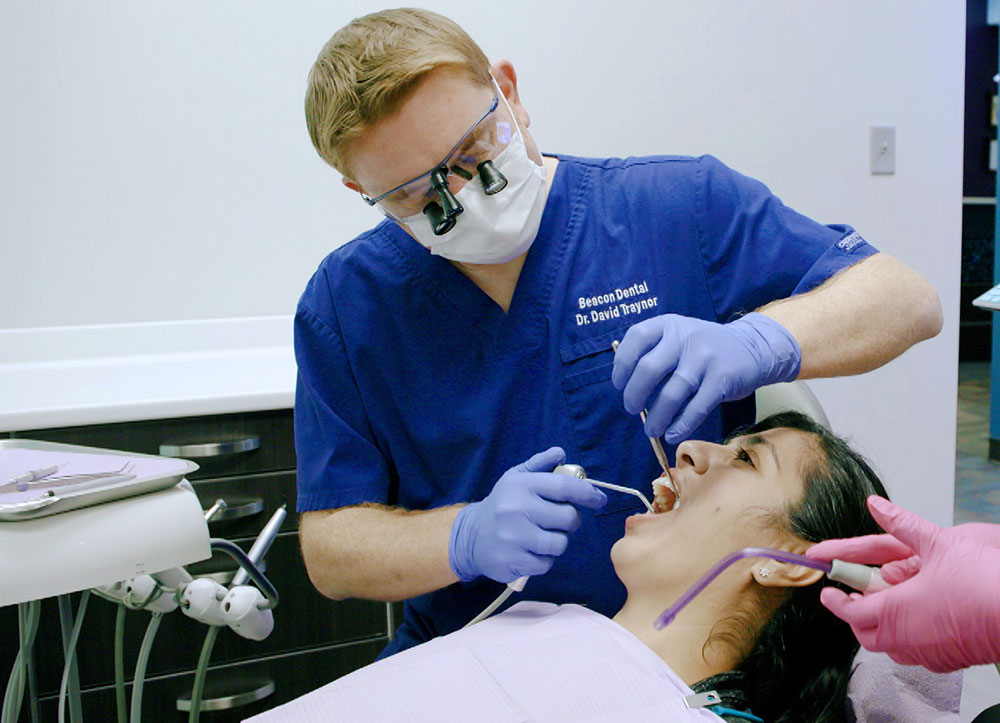 Fillings
Fillings are used to replace part of a tooth that has decay. The decayed part is removed, and a filling is placed to restore the tooth to its proper form and function. There are several types of filling material. Today, metal fillings are no longer needed in most cases as modern composite filling materials have been developed to provide strong, reliable, and natural-looking results. The composite materials are superior to the amalgam metal filling in many ways. The obvious advantage is aesthetics, but the composite material is also bonded to the tooth structure and thus actually can support or strengthen it. Additionally, because of the bonding less tooth structure must be destroyed; only the decayed portion of the tooth is removed. In metal fillings more tooth structure is destroyed to give the filling retention and resistance form.
1/3
Crowns
Crowns are used to strengthen teeth that are badly broken down, have large existing fillings, or have had root canal treatment. A crown is designed to cover the tooth and filling material, holding it together and prevent fracturing or cracking of the tooth. The procedure takes two appointments. The first is to shape the tooth to allow space for the crown to fit and provide optimum function and aesthetics. An impression of the tooth is then taken. This is delivered to a private laboratory where your crown is custom made from scratch. The second appointment is the fitting of the crown. The size, shape, and color are checked to meet our utmost standards and yours.
2/3
Root Canal Therapy
Root Canal therapy is used to save a tooth when the nerve in the tooth becomes damaged or infected. The nerve may be damaged by trauma to the tooth, a large cavity or fracture of the tooth. The damaged nerve can die and can become infected. Root canal therapy involves removal of the damaged tissue and sealing the void to prevent future problems. Root canal therapy is used to save a tooth; the only other alternative is to extract the tooth. After root canal therapy is completed, it is usual for the tooth to require a foundation filling and in most instances a crown to restore its full function and aesthetics.
3/3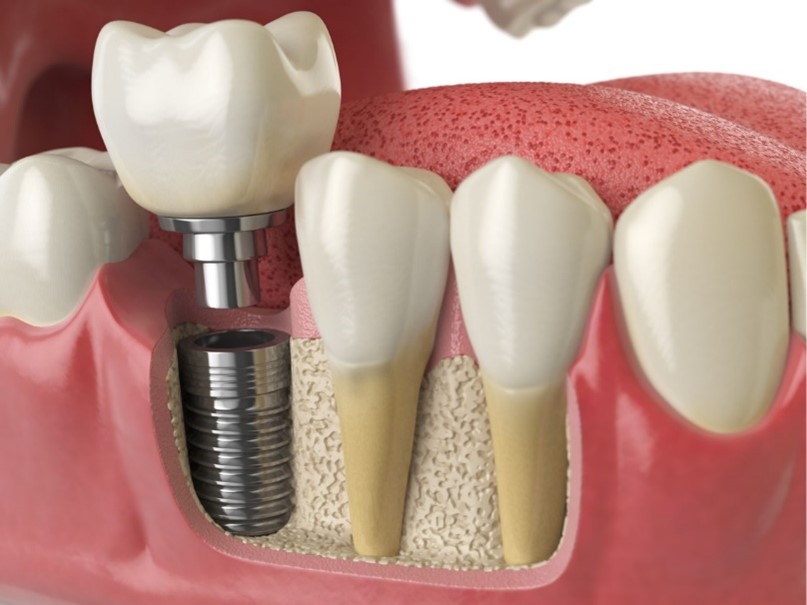 Implants
Implants are the new standard for tooth replacement. They provide a natural and fully functional replacement for a tooth or teeth. The implant is specially prepared titanium that is placed in the jawbone. The implant is a replacement for your root and acts as support for a crown. The implant can replace a single tooth or can be used to support a bridge to replace multiple teeth without compromising the adjacent teeth. Implants can also be used to support dentures, eliminating loose, ill-fitting dentures.
1/5
Bridges
Bridges are used to replace a missing tooth. The teeth to either side of the missing tooth are used to support the bridge. The bridge is made in the same fashion as a crown and requires two appointments. At the first appointment, the teeth are shaped to allow the bridge to fit and provide optimum function and aesthetics. An impression of the teeth is then taken and delivered to a private laboratory. The laboratory custom fabricates the bridge. The bridge is fitted at the second appointment. A bridge is a permanent replacement for a missing tooth. It is cemented in place and the replacement will look natural.
2/5
Partial Dentures
Partial dentures are used to replace multiple missing teeth in one arch. The partial is made with a metal base and acrylic teeth and gum. The partial has clasps to clip to remaining teeth which provide support and retention. The making of partial dentures can take up to five appointments for measuring and fitting, to ensure the best result. A partial is not cemented into place; it is a removable appliance that improves aesthetics and function. We recommend that all patients remove their partial denture to clean it and to clean their teeth. We also recommend removing the partial denture prior to sleeping.
3/5
Complete Dentures
Complete dentures are used to replace all the teeth in one arch. It is custom fabricated by the laboratory with acrylic teeth and an acrylic base. A complete denture is a removable appliance that will take five appointments to measure and fit. We recommend that all patients remove their complete dentures to clean them and to clean their mouths. We also recommend removing dentures prior to sleeping.
4/5
Implant-Retained Dentures
This is often called All-on-4 or teeth in a day. It is a way to replace a full arch of teeth with a fixed implant supported prosthesis. The name All-on-4 is a reference to a complete arch on at least 4 implants. Usually 4- 6 implants are placed in the jaw at specific locations and angles determined during the planning stages by Dr Traynor and the Oral Surgeon. On the day of surgery any remaining teeth are extracted the implants are placed and a full arch of teeth is then screwed to the implants. This means that in just one day the patient is transformed from broken failing teeth to a full arch of new teeth. This is a fixed option and is not removed by the patient. The patient brushes and flosses to keep the prosthetic and implants healthy and visits the office 4 times a year for cleaning.
Several months later, after healing has occurred, the fixed prosthetic is replaced to finalize fit, function and increase esthetics even further. This type of "dental makeover" can be a life-altering experience for patients who have previously had a lifetime of dental difficulty.
5/5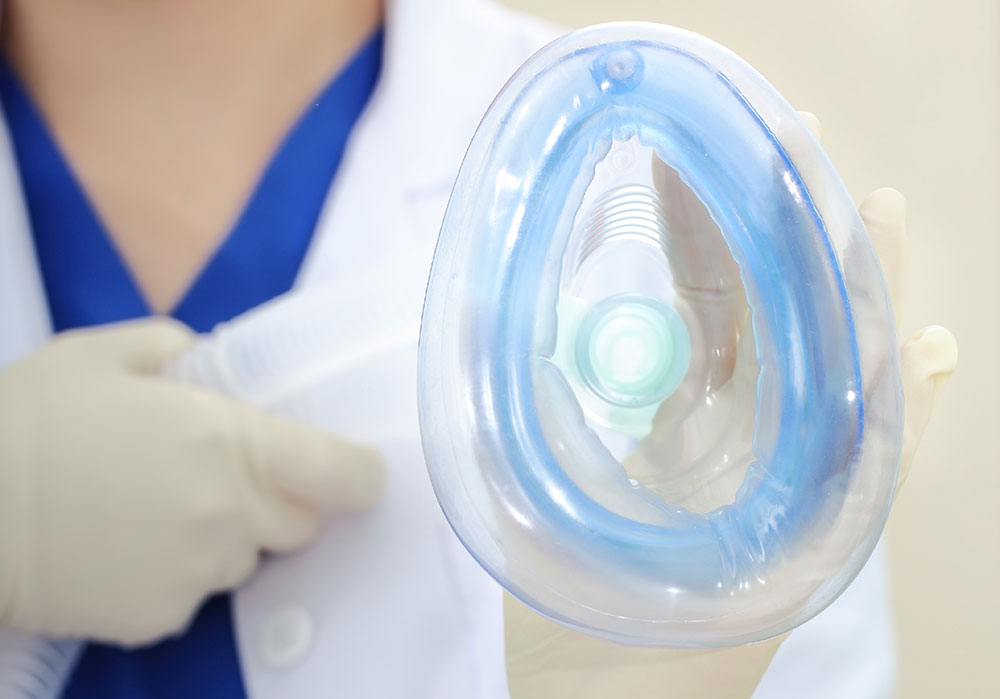 Nitrous Oxide (Laughing Gas)
Nitrous Oxide (also known as "laughing gas") sedation is used to help nervous patients relax during treatment. Nitrous oxide is often used as a conscious sedative during a dental visit. The gas is administered with a mixture of oxygen and has a calming effect that helps phobic or anxious patients relax during their dental treatment. Because it is a mild sedative, patients are still conscious and can talk to their dentist during their visit. After treatment, the nitrous is turned off and oxygen is administered for five to ten minutes to help flush any remaining gas. The effects wear off almost immediately. Nitrous oxide rarely has side effects, although some patients may experience minor nausea and constipation.